Fortified with Vitamin D, delicious Muratbey Plus cheeses support in meeting your Daily vitamin D needs.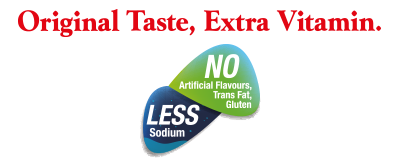 The biggest natural source of vitamin D out there is the sun. It is found in small quantities in food. It is of vital importance for one's general health, as well as for bone development and bone resistance. It supports protecting the body against all immune system-related diseases, including obesity, type I diabetes, multiple sclerosis and certain types of cancer. It also is a stimulant in insulin production, it keeps one's risk of heart attack under control and it ensures that calcium settles in the bones.

A sufficient amount of vitamin D is required in order to fully benefit from calcium, which is easily found and consumed through dairy products such as milk, yogurt and cheese, this given calcium can only settle in the bones when there is sufficient vitamin D in the body. If calcium is ingested in large quantities however cannot settle in the bones, it may lead to the development of urinary calculus.
NO Artificial Flavours, Trans Fat nor Gluten
ENERGY AND NUTRITIONAL VALUES
100 g of Plus contains 5 mcg of vitamin D, 650 mg of calcium and 16,50 g of protein. According to Turkey Dietary Guideliness(TÜBER) of T.R. Ministry of Health ,100 grams of this product meet %33 of your daily need for vitamin D requirements of all indivuals above the age of 2.
100 grams of the product meets 33% of your daily vitamin D requirement*
Nutrition information
Per 100g
How much of it is enough to meet my daily needs?
Per 100g RDA*
Energy

(kJ/kcal)

1040/251

-

12%

Saturated

Fat(g)

13,2

-

66%

Carbonhydrate

(g)

1,2

-

0%

Vitamin

D** (μg)

5

-

100%
*Reference intake of an ( 8400 kj/ 2000 kcal) The % Daily Value (DV) tells you how much a nutrient in a serving of food contributes to a daily diet. 2,000 calories a day is used for general nutrition advice.
Our products are produced at our facilities certified for TS EN ISO 9001 Quality Management System, ISO 22000 Food Safety Management System and TSE COVID-19 Safe Production.* According to the Turkey Dietary Guidelines (TÜBER) of T.R. Ministry of Health 100 grams of this product meets 33% of daily Vitamin D requirements of all individuals above the age of 2.
RECIPES WITH PLUS - HELIX