Adding value to our meals with its cheese flavors, Muratbey carries on many social responsibility projects on healthy living as an indication of the great importance it attaches to health. Thereunder, it adds value to the society with sports and educational efforts.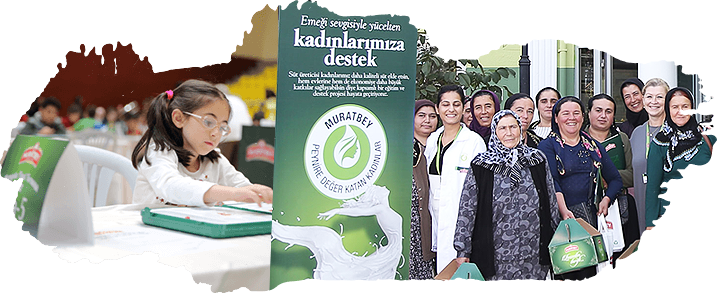 In the sports field, which is essential for a healthy life, being the main sponsor of the Basketball Super League team Usak Basketball since 2015, Muratbey also carries on support projects with the Usak Education, Culture, Youth and Sport Club for the Hearing Impaired.
Muratbey that has made children love cheese with the slogan 'we have added intelligence to the cheese' also develops educational projects for healthy and smart generations. Muratbey has assumed the responsibility of teaching more children in Turkey the Turkish Intelligence and Strategy Game Mangala recommended by the Ministry of National Education and announced by experts to contribute to the children's mental development. Under the project, mangala sets were distributed at schools, seminars were held for teachers and tournaments were held for children. In the inter-school tournament, the first of which was held in Istanbul, over a thousand children met with mangala with the contribution of Muratbey.
Muratbey is always a supporter of social projects for women. It holds seminars to talk about the importance of calcium and cheese in matters that affect female health such as osteoporosis, menopause, pregnancy, dental health and bone development. It engages in awareness efforts through projects carried out with universities and academia.
In addition to health-related matters, Muratbey also carries out efforts to contribute to the employment of women. With the fact that the naturalness and quality of cheese is derived from good milk, Muratbey carries out educational projects for female producers to contribute to the quality milk production. One of these educational projects was held for women in Derekoy, Usak. To support the employment of women in production, Muratbey experts trained women producing milk in Derekoy, Usak in "hygiene, disinfection of milk, quality of raw milk, and milk refrigeration and storage."
In addition to being one of the most-preferred cheese brands in Turkey, Muratbey contributes to raising the society's awareness of healthy diet with the responsibility of being a company sensitive to social problems. In this respect, nutrition and food experts cooperate in all communication processes for the brand. In educational meetings held in topics such as women's health, child development and dietary habits, it brings different target groups with expert academia and the names active in the digital and conventional media together.
Muratbey will continue to contribute to the healthy development of the children and the youth through scholarships and sponsorships in health, sports and education and enhance the social benefit by supporting creative and innovative social projects.